Pacifier : Guide to your infant nibbling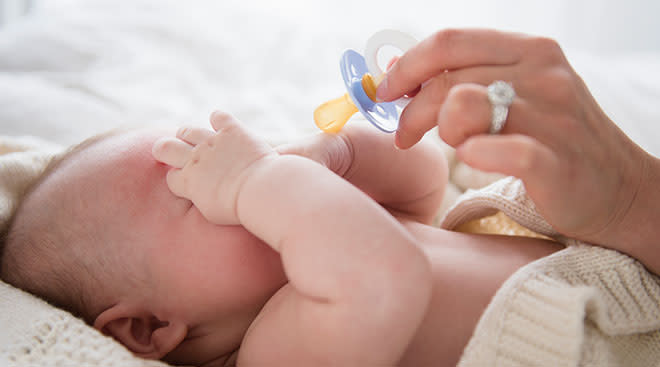 As we've witnessed with our very eyes the neonate's longing to taste any and everything and to stuff themselves with stuff of every mommy's fear. How could one be babysitting for the never-ending hours of childhood.
Well, now you don't always need to feed your baby too because everytime your infant is crying
doesn't tell that he needs to be fed. There shall comes the job of a pacifier.
A pacifier is a silicon or rubber alternative given to infants to serve their cravings of sucking. An elongated teat, a handle and a mouth shield together produces a pacifier.
The mouth sheild is made large enough so as to provide safety from the risk of allowing the whole object inside the mouth.
Pacifiers are convenient and hygienic choice to give your baby between those feedings to suckle upon. Depending on your baby's need and preferences pacifiers come in different shapes and sizes. Let us see what the brand BIBS has to offer:
In our experience, the following sizes are general and therefore we recommend them usually. However, All these sizes can be used from birth, It all depends on your babies preferences.
There's no harm in giving a new born a size 3 pacifier. However most new borns prefer smaller
size , You can chose a perfect size pacifier for your baby according to your babies age.
Size 1 : Size one is suitable for new borns and can be given to a baby of six months.
Size 2: Size two is given to babies between sex to eighteen months.
Size 3: This size is for infants above eighteen months
One size : This is a general size which can be used for litte ones upto three years of age.
You can follow this age and size guide to select the perfect pacifier to comfort the suckling urge of your child. All sizes, however, can be used from when your baby is born.
Bibs boheme
The shield size is same regardless of the nipple size.
Bibs Boheme pacifier is available in two sizes i.e. SIZE 1 and SIZE 2 having all natural rubber latex.
Bibs color
Bibs offer you a wide range of minimalistic designs and colour variations in our assortment. A pacifier to match with all those cute little rompers , you have an array of collection at bibs, available in sizes 1, 2 and 3 in all natural rubber latex with same shield size.
Bibs couture
Bibs couture collection are butterfly shaped pacifier for easy grip. These are provided with curved shaped nipples to fit to your babies palate for easy tongue placement.
Shield comes in two different sizes to match the nipple size, bigger the nipple larger the shield. These are also available in Size 1 and Size 2 with natural rubber latex and silicon nipples.
Choose your babies pacifier size with our help
If you have any Quarry regarding the size of pacifier or the shape of nipple to be chosen for your child, you can reach out and seek information from our official sources and health professionals.