Paying It Forward: Lacsnac Launches Line of Breastfeeding Supplements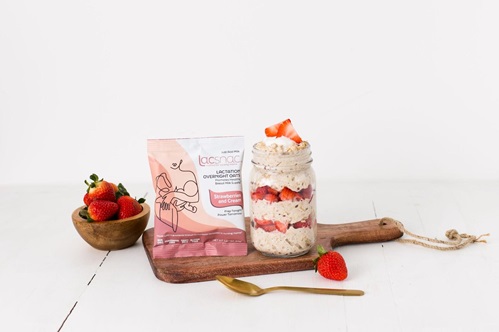 Breastfeeding is a beautiful way to express love for your little one, but can not be the most easy journey to embark on as you're navigating being a new mom. Breast milk is full of nutrients that support your baby's growth and development while also providing them with protection against diseases and illnesses. However, some mothers may struggle with producing enough milk to meet their baby's needs.
Whether you are a new mother or an experienced one, Lacsnac is here to help to boost breast milk supply for nursing moms around the world. The viral, better-for-you, mom-owned lactation supplement company curated a clean label line of lactation-enhancing products designed for the calorie-conscious mom all while allowing her to indulge. The first of its kind: Soft-baked Lactation Cookies and Brownies, Lactation Overnight Oats and Lactation Coffee make up the natural, beautiful product line.
LACTATION OVERNIGHT OATS
There were no clean label lactation-enhancing snacks on the market — until now. Lactation Overnight Oats, made with all natural, vegan ingredients are crafted with Non-GMO whole-grain, gluten-free oats, flax seed and brewer's yeast. With three flavors: Maple and Brown Sugar, Chocolate Chip Banana and Strawberries and Cream, moms are sure to find the flavor they love most. A new take on oatmeal, overnight oats are growing in popularity. Their convenience is to thank — mix oats with milk/Greek yogurt before you head to sleep, refrigerate and wake up to an already-made breakfast.
LACTATION COFFEE
Yeah you heard that right. The new caffeinated coffee contains 120mg of caffeine, which fits into the suggested 300mg per day for nursing Moms. It's the perfect morning pick-me-up after a long night of waking up from newborn cries at 2 A.M. and 4 A.M. Crafted from three simple ingredients of our proprietary breast milk boosting blend of Colombian coffee, fenugreek and blessed thistle, this eco-friendly coffee in a tea bag allows for quiet mornings with no machine required. Simply boil hot water in Lacsnac's Portable Coffee Kettle, pour over the tea bag in a mug for five minutes and enjoy hot or wait for it to cool off for a refreshing iced coffee. Single origin, Non-GMO, vegan, dairy-free, oat-free, egg-free, nut-free and sustainably sourced.
Soft-baked LACTATION COOKIES AND BROWNIES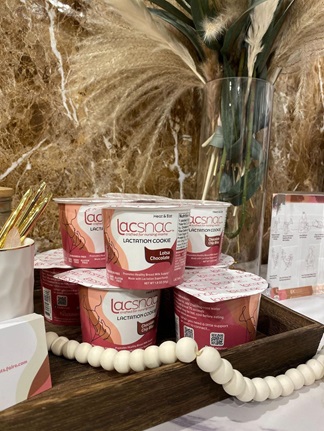 Enough of the bagged, tooth-cracking lactation cookies, Mom, you deserve better! Packaged in a disposable cup so you won't have to do dishes — SCORE! Made with oat flour, brewer's yeast, flax seed, spinach and broccoli — all ingredients known to boost lactation in nursing moms. Heat and eat in under two minutes and mom has a delectable, yet healthy treat at the end of a long, tiring day. With the addition of fiber and protein in the mix, mom won't feel bad about this. With all she does, she deserves a brownie.
Moms themselves and those who are supporting nursing parents, such as grandma's, mother-in-laws, partners and friends can shop Lacsnac products at Lacsnac.com or on Amazon.