What Is Carbon Laser Facial And How Does It Work?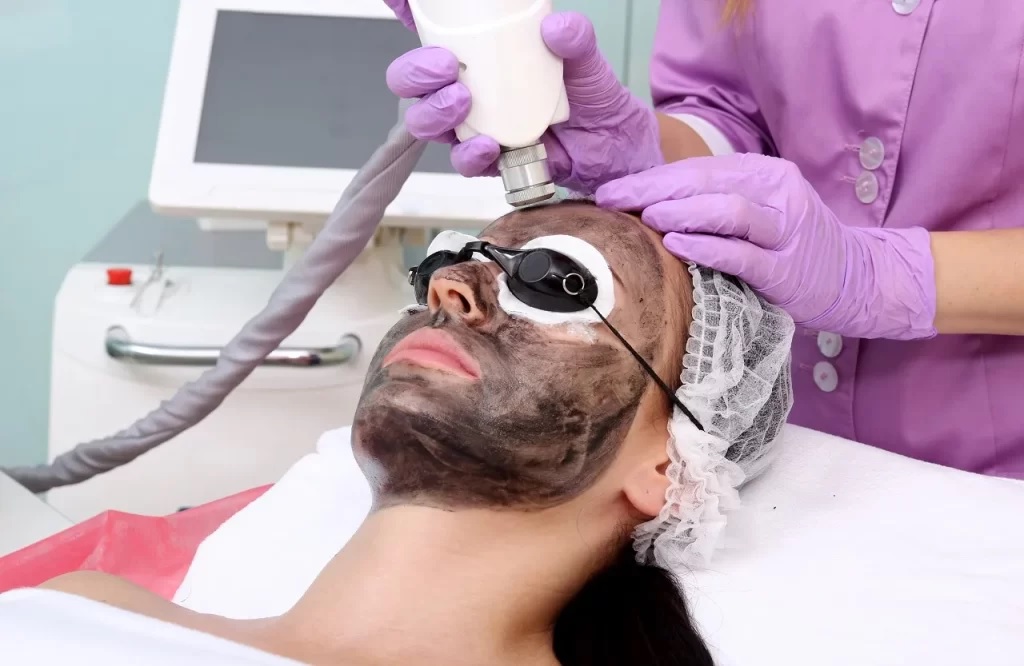 If you're looking for a way to improve your skin's appearance, you may want to consider a carbon laser peel. This type of peel uses laser energy to vaporize superficial layers of skin, which can help reduce the appearance of wrinkles, fine lines, and acne scars. Keep reading to learn more about how carbon laser peels work and what you can expect from the treatment.
What is Carbon Laser Facial?
Carbon laser peel is a revolutionary treatment for those looking to restore their skin's natural beauty. This type of peel utilizes laser energy to target the top layers of the skin, reducing blemishes, improving texture, and lessening discoloration. It is highly effective in treating sun damage, wrinkles, stubborn acne, and large pores. Patient recovery time with a Carbon Laser Peel is short – most resume regular activities just a day or two after the procedure. The results of a Carbon Laser Peel can be quite impressive; many who have undergone this treatment report clearer skin with increased smoothness and evenness in tone. With proper care post-procedure, patients can maintain their newfound confidence and glowing complexion for an extended period of time.
How Does Carbon Laser Peel Work?
Carbon laser peel treatment is a relatively new approach to skin resurfacing, providing both rejuvenation and correction benefits. A thin layer of carbon lotion is applied to the face and exposed to a laser emission, emitting photon energy that is absorbed by the topical layer. This emits heat, thus ablating away damaged or aged skin on a cellular level, while leaving the healthy tissue unharmed.
Since the treatment targets only certain layers of the skin, fewer risks are associated with this method compared to other more invasive techniques. By stimulating collagen production and elastin fibers, it helps improve its suppleness as well as skin pigmentation problems like acne scars and sun damage. Furthermore, its antibacterial effects make it very beneficial in treating severe cases of acne. All in all, carbon laser peels offer a safe and effective alternative for advanced skincare without any downtime or serious side-effects.
What Skin Issues Can Be Treated With Carbon Laser Facial?
Carbon laser peel is a revolutionary skincare treatment that has been gaining popularity over the years. It is used to treat a variety of skin issues such as hyperpigmentation, dullness in the complexion, fine lines and wrinkles, acne scars, enlarged pores and other types of sun damage. This process uses special laser energy combined with activated carbon that penetrates into the outer layers of the skin to target damaged cells. The heat from the laser boosts collagen production and helps to fill in and smooth out wrinkles.
Carbon laser peels are a safe, non-invasive alternative to surgeries or cosmetic treatments, requiring no down time or expensive lasers for optimal results. Not only does this treatment improve uneven pigmentation and texture but it can also help the skin retain a radiant glow over a period of time.
How Is The Carbon Laser Peel Done?
The carbon laser peel is a modern facial spa treatment that can help restore younger-looking skin and reduce signs of aging. It's slightly more intense than other facials and works by blasting the skin with ultra-short pulses of concentrated light energy. This targets pigmentation in the surface layer of the epidermis, encouraging it to break away and reveal brighter, smoother skin underneath.
Before the procedure begins, a thin layer of microparticles will be applied to your face in order to better absorb the laser energy. Then, your aesthetician will hold a hand wand against your skin that emits short pulses of energy, stimulating collagen production and reducing dead skin cells from building up on the surface. Each pulse won't take more than fractions of a second, but you may feel some mild discomfort. Afterward, your face may have a red or pinkish tone for about 24 hours; after that time period, you should begin to see younger-looking results within just weeks.
What Are The Benefits Of Carbon Laser Peel?
Carbon laser peel treatments offer a great range of benefits for improving the appearance of the skin. This minimally-invasive procedure can even out skin discoloration, reduce the visibility of acne and acne scars, hydrate dry and unbalanced skin, minimize large pores, and remove blackheads. One of its most useful functions is that it helps to stimulate collagen production in the deeper layers of the skin, resulting in firmer and more toned skin overall.